Adult squash and racketball for players of all abilities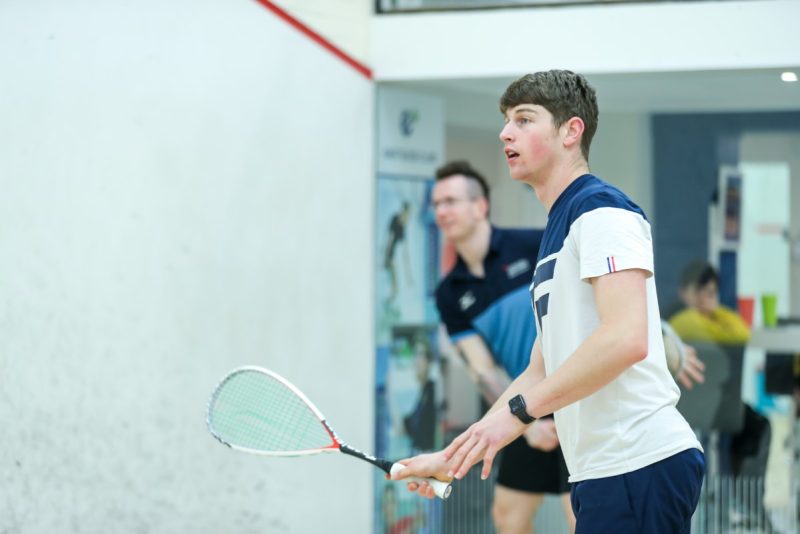 East Glos has a thriving and sociable squash section with four courts, two of which are glass-backed
Whether you're a beginner, rusty returner or an experienced player, there are plenty of options.  
For adult members, upon joining the club, we'll give you a free 45-minute coaching session and a free squash ball. As well as giving you some tips to improve your game, the coach will guide you on how best to meet other members of the same standard and answer any questions you may have. 
Scroll down for more about lessons and courses, social tennis and options for competitive play.
Racketball is included in your membership
While similar to squash in some ways, it is easier to learn. A larger ball is used, along with a shorter and wider racket.
Rallies last longer and are more forgiving on the body due to a larger bounce. This allows more fun to be had with your opponent whilst playing the game.
Adult squash and racketball courses for everyone
There's a wide range of group courses for all standards, all year round. 
Run by our team of experienced England Squash affiliated  coaches, group courses at East Glos are a fun way to improve your game with others. 
Individual squash and racketball lessons
The East Glos coaching team has a wealth of experience and creates an enjoyable environment to learn. They have a history of producing players of all standards.
Whatever your level, we'll work with you to identify what you want to achieve and tailor our coaching to meet your needs.
Social squash and racketball: Flexible and fun
This is an excellent way to meet other members in a fun and social setting.
There are five sessions every week, and you can drop into any session whenever you like. Perfect if you don't want a regular commitment.
Teams and internal leagues
For experienced players, there's so much choice for team play. We're active in the Gloucestershire league, and we host the Gloucestershire Senior County Closed and the Junior County closed every year.
If you're interested in team play, we'll put you in touch with Mark Toseland, our  squash manager, when you join the club.
We also run two squash and racketball internal leagues. If you're new to the club, It's a great way to meet other members.