Darren joined East Glos on 1st October 2014 to replace Simon Harmer who left us in July.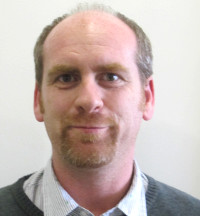 He has an extensive background in sports and leisure management having worked at Oxstalls Tennis Centre in Gloucester for 12½ years, where his most recent role was Tennis Performance Officer.
His responsibilities included managing the centre's tennis development, community, performance, competition and disability programmes along with other sports. He has served on Gloucestershire LTA Council for the past seven years and is also a licenced coach and referee.
Darren is married to Emma and they have two boys, Iwan (9) and Dylan (6). He has also recently completed an MSc in Sports Management at the University of Worcester.
Darren says "I am delighted to have been appointed as Club Manager at such a prestigious club as East Glos, with its traditions and history and I am looking forward to serving its members.
"I know many members already through my years developing tennis in Gloucestershire and look forward to meeting and getting to know those that I have not met yet. I am looking forward to getting the opportunity to play on all the different surfaces and representing East Glos in the future.
"I have been warmly welcomed by members and staff since starting last week and my door is always open for anyone wishing to say hello. I will endeavour to try to remember as many names as possible."
Social Share