Prodigious talent who won the club's Ladies' Singles Tennis Championship at 13 and became a world-ranked real tennis player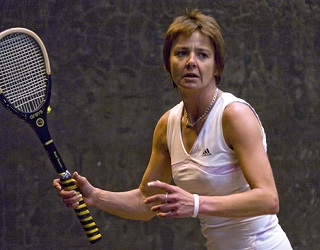 We are saddened to report the death of Jo Iddles, a former member of East Gloucestershire Club who passed away on 31st January at home in Cheltenham.
Jo joined East Gloucestershire Club in 1980 as an 11-year old, winning the Ladies Singles Tennis Championships just two years later.
A prodigious talent, Jo represented Gloucestershire at junior and senior levels on many occasions.
She also represented England as a junior.  At 16, she trained with a full-time tennis squad and was recognised nationally as a particularly interesting talent, competing at national level in the UK and also abroad as a professional player. Jo qualified as a professional tennis coach in her twenties, going on to work with some of the country's best juniors.
After tennis, Jo became an exceptional real tennis player, making it her profession for some years. She became one of the top women players in the world, winning two Real Tennis Ladies World Championships Doubles titles in 2001 and 2003, as well as being runner-up in the Real Tennis Ladies World Championships Singles final in 2005. In 2007, at the age of 37, Jo was ranked number two in the world. She also coached this difficult sport, working with the national teams and top players.
After real tennis, Jo returned to Gloucestershire and her first love, tennis, spending her time working with junior players.
As a teenager at East Glos Jo was a happy, carefree young woman with a passion for tennis and for life. A free spirit, she travelled extensively, making the most of every opportunity that came her way to live life to the full.
We will remember Jo's exciting and aggressive tennis, her marvellous speed and agility around the court and her enduring enthusiasm for the game.
Updated 20.2.18: Jo's funeral will be at 1pm on Wednesday, 7th March 2018 at Cheltenham Crematorium.
Social Share