Stephen Clayton and Steve Evans have won their first over 60s ITF title.
There was an East Glos triumph in the sun at the ITF Grade 4 Tenerife South Seniors Open last week. Stephen Clayton and Steve Evans won the Over-60s doubles event, the first ITF title for both of them, and a particular pleasure for Steve Evans, who was appearing in his ninth ITF final.
The pair had to win three round robin matches to take the trophy, and they did it the hard way, coming back from the brink of disaster two days running. In their second match they were 2-6, 1-4 down but pulled themselves together to win 10-3 in a decisive tiebreak.
In what amounted to the final the following day there were up against a home-based German/Spanish combination who were rated highly both by themselves and an inappropriately partisan gallery who seemed to see good play only when it came from one end of the court.
The East Glos duo were overwhelmed in the early stages and slumped to 1-6, 1-4 but somehow managed again to hit back and won five games in a row to level at a set-all. At 4-7 in the tie-break it looked all over again but they won the next six points to take the title.
Stephen Clayton also achieved his first ITF singles ranking points with a first round victory. Both East Glos players were eliminated by German players (thankfully not on penalties!) in the quarter-finals.
The lads put their success down to a rigid training regime of early nights, long pre-dawn runs on the beach and a total rejection of the products on offer in the Costa Adeje bars.
Photo: Stephen Clayton (L), Steve Evans (R)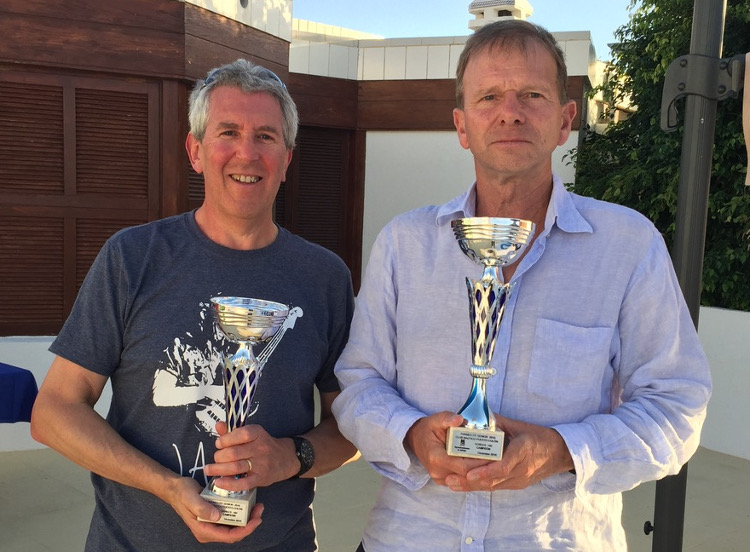 Photo: Steve Evans (L), Stephen Clayton (R)
Social Share